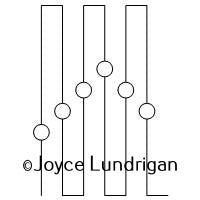 P2P Chevron Dots
A p2p pattern.  A fresh modern look for a rectangle border. You can use the Fill function if the border is narrower than the 9 inch height this pattern is designed at. As designed, dots are 3/4"
Part of the March 2019 Flipping Coins AIO set.
Search for "Chevron Dots Corner" for coordinating corner pattern.